In order to provide services with high reliability and quality for our users and customers, we have implemented the Integrated Information Security Management System based on standards compliant with ISO 27001: 2017 and ISO 9001: 2015. The implementation process was incredibly time-consuming and took almost 3 years. As a result, PSNC is among the ISO certified entities.
Certificate PN-EN ISO / IEC 27001: 2017 – 06
The certificate obtained from the independent certification body TUV NORD confirms that PSNC manages information security (including IT security, physical security and business continuity) in line with the best global standards and practices in this field.
The certification of an information security management system shows our commitment to information protection and ensures that all data we process is properly protected. The guarantee of efficient and effective information protection is to ensure an appropriate level of security culture and the application of well-thought-out technical solutions.
The Certified Information Security Management System covers the areas of:
• new generation computer networks,
• distributed data processing and management,
• Internet of Things,
• providing applications and ICT services,
• cyberspace security.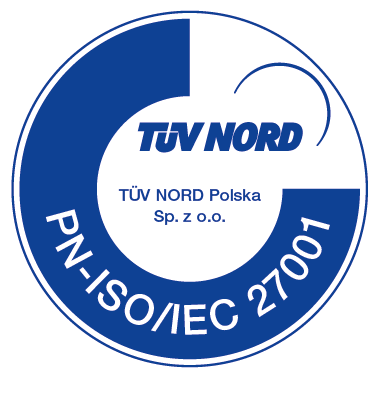 Certificate PN-EN ISO 9001: 2015
The certificate in accordance with ISO 9001: 2015 includes quality control and reliability of processes implemented at PSNC.
In our case, it covers several key strategic areas of activity:
• development and implementation of software and informaion systems,
• computing and storage services,
• cloud services and internet platforms,
• collocation,
• ICT consulting and security audits.