Artificial Intelligence for the European Open Science Cloud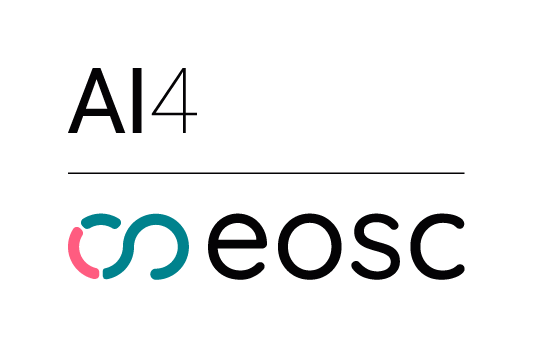 The AI4EOSC project is aiming to deliver an enhanced set of services for the development of Artificial Intelligence (AI), Machine Learning (ML) and Deep Learning (DL) models and applications. This is to be reached by increasing the service offer in the EU landscape by expanding the European Open Science Cloud (EOSC) ecosystem. The services will make use of advanced features such as distributed, federated and split learning; provenance metadata; event-driven data processing services or provisioning of services based on serverless computing.
The project will focus on tools to provide AI, ML DL services by integrating into it real life use cases to co-design the project proposal and drive our integration activities.
AI4EOSC bases its activities on the technological framework delivered by the DEEP-Hybrid-DataCloud H2020 project. The DEEP platform (provided through the EOSC portal 2) is a production-ready system that is being effectively used by researchers in the EU to train and develop machine learning and deep learning models.
A special emphasis is made in ensuring that all the research outputs and sub-products (data, models, metadata, publications, etc.) adhere to the FAIR data and research principles.
The AI4EOSC consortium has been assembled to ensure a skills-balanced and complementary set of partners with a strong research, development, technological and innovation background. The consortium gathers several of the most active institutions in the EOSC in terms of development, implementation, deployment and operation of distributed pan-European e-infrastructures, experienced and highly innovative SMEs with a huge potential in the AI field and a wide experience in technological endeavors. All partners involved in the project activities have wide experience in software development
As one of academic partners involved in the project, PSNC has wide and complementary experience in operating European level computing and data infrastructures, being a relevant stakeholder in the PRACE initiative and EuroHPC.
PSNC is particularly active in the area of application of the technologies in Agriculture, providing services for public administration, governmental bodies and farmers. As a respective partner of use case "Integrated plant protection scenario", together with Wielkopolska Agriculture Advisory Center will integrate the outputs, as part of exploitation, into national advisory platform and offer the data also to other systems, validate the results also using the on site observation network.