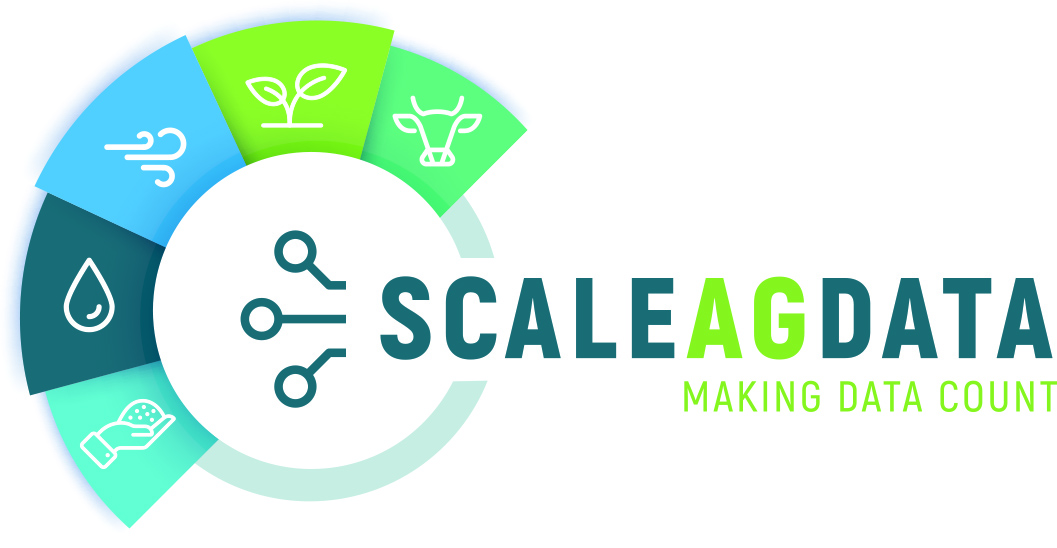 Clear targets have been defined by the EU for a more competitive and sustainable agriculture (Green Deal). This requires data-driven decision making for farmers, governments and other policy makers, yet there is a severe reference-data gap when observations are needed at the local level.
An underexploited source of data is generated by sensors used in agriculture, as they capture crucial information on the crops and the surrounding agri-environmental conditions. Tapping into this source and upscaling them through the integration with other data (e.g. satellite) could result in enhanced capacities for regional agri-environmental monitoring. This would require a paradigm shift on how the monitoring systems work, and on the issues of data ownership and governance.
The vision of ScaleAgData is thus to gain insight in ihow these data streams should be governed to the benefit of all stakeholders, especially the farmers, and how these data can be integrated in the regional agri-environmental monitoring datasets. Through this upscaling, this wealth of information can be shared with a larger farmer community, thus shrinking the technological inequality in the sector. Specific attention will be paid to innovations in sensor technology, edge computing, data analytics, and novel EO-based products.
These innovations will be co-designed and showcased in 6 Research and Innovation Labs. These RI labs were carefully selected to meet several of the identified challenges, and to implement and evaluate a number of the proposed innovations. The locations of the RI labs were chosen to cover the different biogeographical zones of Europe. For some of the RI labs it was chosen to have several sub-labs over different regions, to ensure a wider coverage of the available sensor data, enabling more sound decisions on the useability of the products and services in different agro-ecological conditions, as well as enabling the evaluation of the regional transferability of the results and outcomes.
The six RI labs each have their own thematic focus, being Water productivity, Crop management, Yield monitoring, Soil Health, Grasslands, and Dairy. With this extensive thematic coverage, sensor data can be collected on a wide variety of agri-environmental conditions, which in turn allows ScaleAgData to cover the four dimensions of the environment: Soil, Water, Air and Living organisms (crops and livestock in this case). It is anticipated that for each environmental component, several improved data products will be available to the different evaluators and external users, allowing a more thorough co-design and evaluation process. Special attention was also given to incorporate both common crops such as wheat and potato, as these typically have a broad coverage, as well as crops that are typically less monitored with sensors, such as medicinal and aromatic plants, and Quinoa.
The whole approach will enable the assessment of the proposed innovations and data governance frameworks and demonstrate added values of the improved monitoring capabilities for a range of users, including small-scale and agro-ecological farmers, the financial sector, and policy makers.
With these outcomes, ScaleAgData aims at contributing to the overall competitiveness and sustainability performance of the European agricultural sector, and to the work of the HE candidate partnership "Agriculture of Data" and the Soil Mission.
Partners:
VITO, ILVO, DME, NP, ICCS, VTT, LUKE, Kuva, WODR, PSNC, HORTA SRL, IFAPA, ATB, OHB DS, DMK, MIGAL, VRI IES, EGM, CNH, AVR, AUTH, EURAC, AGINS, UGent, DHI, Farm Europe.