A new class of low-power TCO-optimised appliances with built-in efficiency and dependability enhancements is being developed at EU level by the M2DC project. It is easy to integrate with a broad ecosystem of management software and fully software-defined to enable optimisation for a variety of future demanding applications in a cost-effective way.
Modular Microserver DataCentre (M2DC) investigates, develops and demonstrates a modular, highly-efficient, cost-optimized server architecture composed of heterogeneous microserver computing resources, being able to be tailored to meet requirements from various application domains, such as image processing, cloud computing or even HPC. New technologies including advanced mobile devices, Internet of Things (IoT), 5G and machine learning, pose steadily increasing demands on the performance and energy efficiency of server platforms and data centres.
Heterogeneous hyperscale data centres target these challenges with a combination of highly scalable server platforms and integrated hardware accelerators, e.g., based on GPUs and reconfigurable hardware. Against this background, 13 companies, research institutes and Universities are collaborating in the H2020 project M2DC (Modular Microserver Data Centre) on the development of turnkey appliances, which can be easily configured, produced, installed and maintained. The basis for these appliances is the M2DC server, a modular, highly-efficient, cost-optimized server architecture, seamlessly integrating heterogeneous microservers and hardware accelerators.​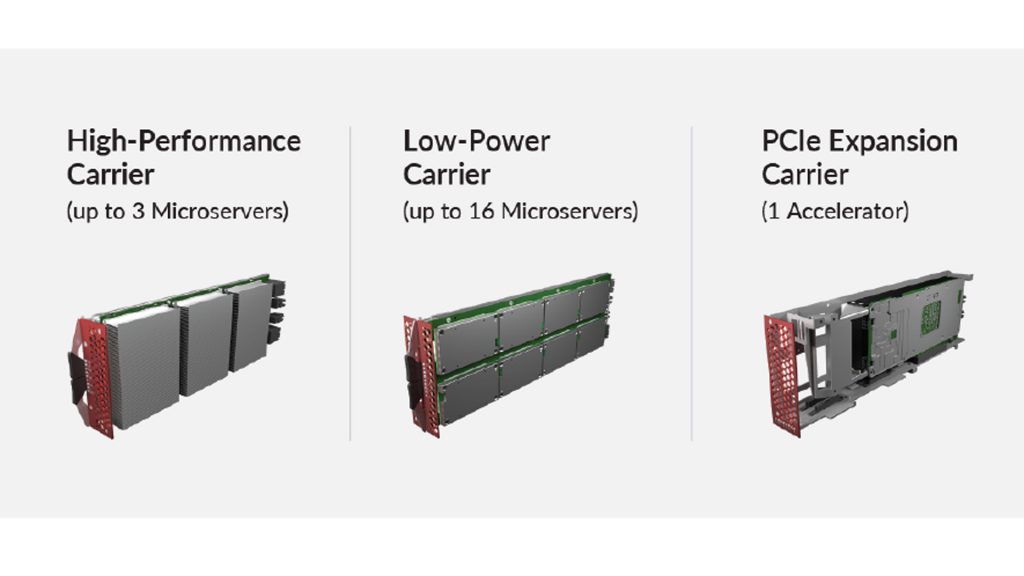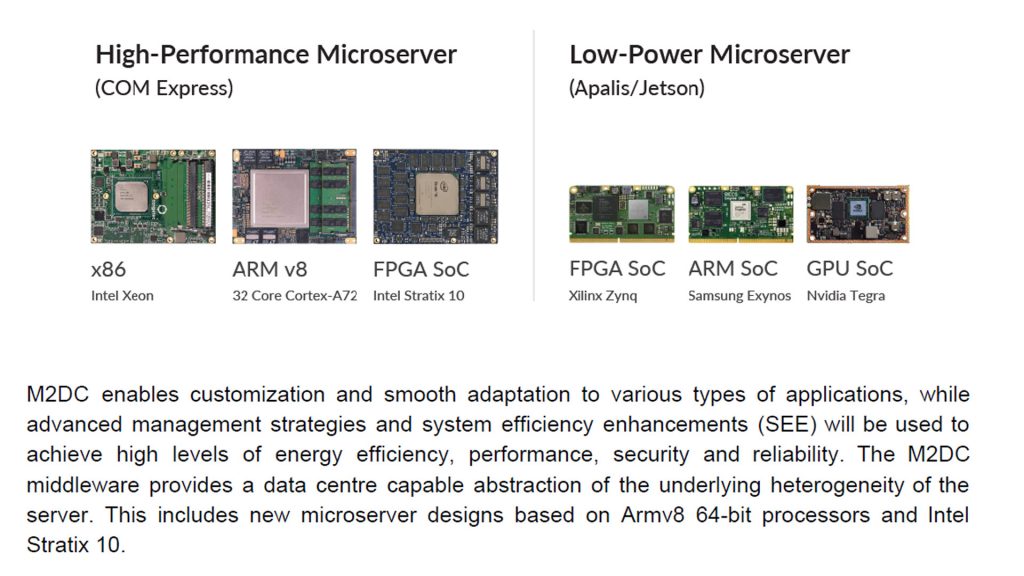 Baseline benchmarks show the high potential of accelerators for the targeted applications including photo finishing systems, IoT data processing, cloud computing, CNN and HPC. The system design includes an optimized middleware for deployment of optimized appliances. These target specific needs in selected markets including High Performance Computing, Big Data Analytics, Signal Processing and Cloud Computing. The M2DC customer can also acquire a basic appliance that can be tuned to address a specific problem, or a custom appliance for its business or research needs counting on full support of our M2DC team of experts.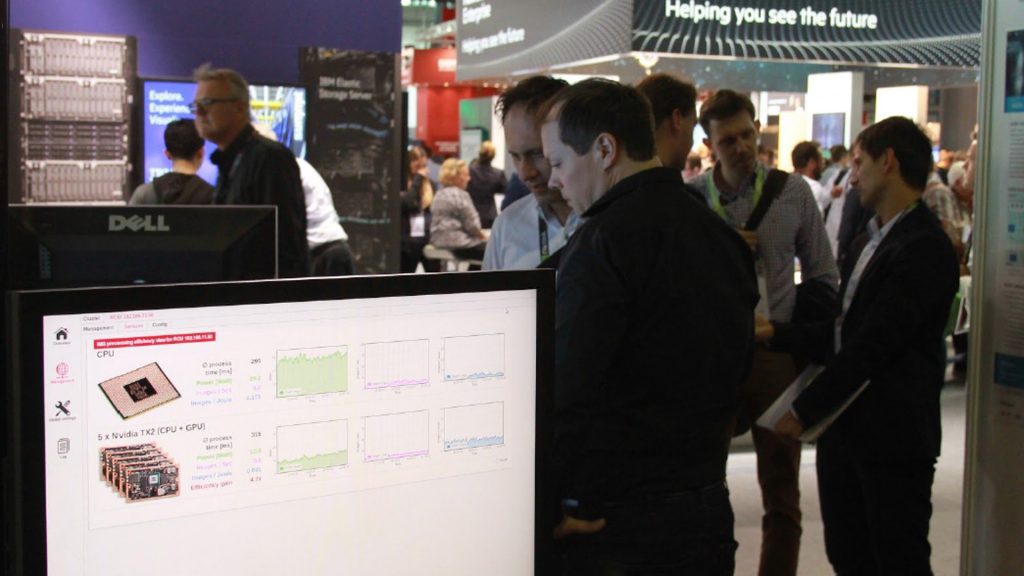 The M2DC team was part of the most important HPC events this Summer – the Forum Teratec in Paris (300 visitors/2 days) and the ISC-HPC in Frankfurt (250 visitors/2 days). Both are major industrial events in HPC in Europe, with ISC-HPC being shaped on the SuperComputing in the USA. The M2DC team brought to the public the platform chassis were in mid a and large range versions. The system efficiency enhancements (SEE), one of the highlights of this novel and outstanding technology, were demonstrated at the booth.
The audiences were very enthusiastic about the PCI-Express switching technology, its middleware concept, the integration and usage of FPGAs in HPC, and the heterogeneous nature of the server. M2DC rightly recognises that homogenous, commodity architectures will not be sufficient to meet the compute requirements of the next generation of IT workloads. The goals of M2DC fit well with the current push to develop new, highly efficient, heterogeneous application-specific architectures for emerging workloads such as IoT, machine and deep learning, and big data analytics. Built-in efficiency and dependability enhancements are combined with an intelligent power management for continuous optimization of power and performance.
The M2DC team will also be part of the SuperComputing 2018 in Dallas, USA, in November 11-16, and in the ISC-HPC and Teratec editions do 2019. Join us at these events or contact us at m2dc.eu to discuss the future of HPC and how M2DC technology is taking a big part of it!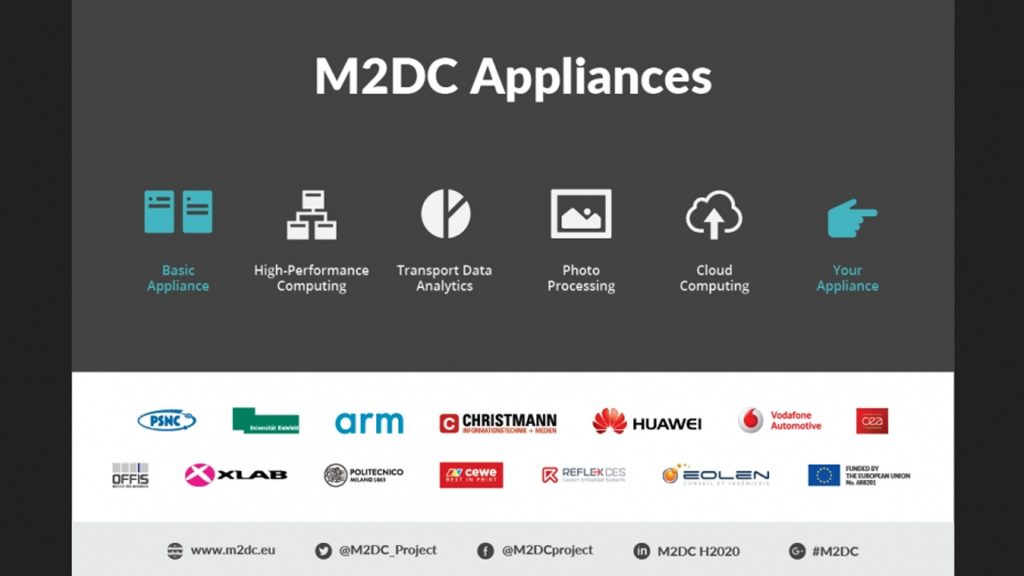 For more information please visit our website at www.m2dc.eu and follow us on our social channels:
Twitter: https://twitter.com/M2DC_Project
Facebook: https://www.facebook.com/M2DCproject/
LinkedIn: https://www.linkedin.com/company/m2dc/
Google +: https://twitter.com/M2DC_Project
Youtube: https://www.youtube.com/channel/UCT0boj5Rd7amGL81RxgIfuA
Media Contact Person: joao.pitacosta@xlab.si